Looking for an apartment in Hévíz? You are at the right place!
Welcome to Origo Apartments!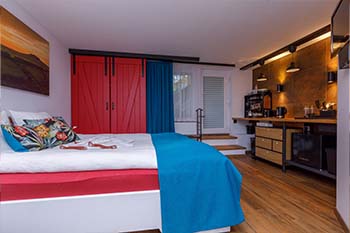 Our Origo apartments is in the middle of Hévíz city center. Even though it is in a central location, it is in a protected area, far away from traffic and noise, with nice garden view. It is only 400 m from the spa lake, and right next to the mayor's office, pharmacy, doctor, post office, shopping area and a church. Everything is within walk distance, you will not need to use your car to look around and enjoy the place.
In front of the house there is a grocery store that is open from 7 a.m. till 11 p.m. seven days a week. Many restaurants, baths, medical and beauty treatments are near, in walk distance but we can also give you a bicycle to ride for free. We also provide a free parking spot on our yard for our guest's vehicle for the entire time of their stay.
Our east-west faced, non-smoking apartment is located on the ground floor. It has a living room - bedroom - kitchen combo and a bathroom. You can enjoy the garden view from the terracce of the apartment. You can watch a cable connected LED tv, listen use the free WIFI internet from your room (we even have Ethernet cable for faster connection). You can use our bicycles for free as well, we have great bike paths in our area. The bedroom has a queen size bed for comfortable sleep. Pets are not allowed.
Write an email, contact us, you will be welcome to Origo apartments!